How Are Electrical Fires Caused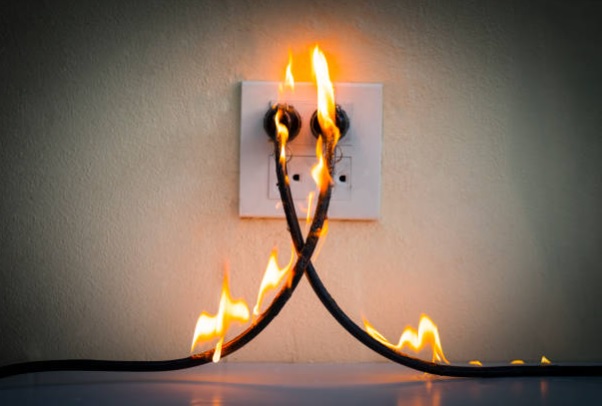 Electrical fires can cause widespread damage. It may start from a single spark, but it soon grows into a raging fire. It is important to never take electricity for granted. Always check with your local licensed electrician to advise on how to prevent such hazards. If you have a commercial property with multiple appliances like computers and AC machines, you need to check your electrical systems at least twice every year, if not more. Regular maintenance will ensure that you are free from danger. Besides, it also saves you from making big expenditures later on by keeping your appliances safe and sound.
Cause of Electrical Fires
The biggest cause of electrical fires is neglecting the upkeep of your overall electrical systems. On your part, keep a close look at symptoms of electrical problems. If you see frequent voltage fluctuations or light flickering, you should be contacting a licensed electrician to look into the matter.
Outdated Electrical Wiring
If you own an old property, the chances are that your electrical wiring has become outdated. As a rule of thumb, houses that have not had a change of wiring for the last twenty years or so should seriously consider rewiring it. Look out for common signs such as tripping circuit breakers and flickering lights. Even if you do not replace the entire wiring, you should at least change the damaged portions. Schedule a consultation with a licensed electrical technician to state a quote for wiring work.
Faulty outlets
Do you know that old outlets are susceptible to forming an electrical arc and can cause a fire? Even grounded outlets may lead to fires if the wires behind them start to loosen. An electrical inspection will reveal if the outlets need changing. Look for warning signs such as accumulation of soot around outlets and switches. A professional electrician will replace the faulty outlets and prevent the fire risk.
Circuit Overload
You are literally inviting an electrical fire when you are plugging in too many cords into a single power source. You should avoid the practice of using a single extension cord to power multiple appliances at once. Instead, you should be installing multiple outlets to see that appliances have dedicated circuits.
Outdated Appliances
As your everyday appliances grow old, they exert more stress on the electrical system. Besides, their wiring may also suffer from fraying due to years of constant use. A detailed inspection by a licensed electrician will recommend which appliances need replacement with a newer model.
Choosing the Best Electrical Service
Voltage Electrical Contracting is well-recommended by Perth residents to be a credible service attending to all kinds of electrical issues. We handle all kinds of electrical installation and maintenance work, from domestic, to commercial and industrial. Contact us now for an inspection or to attend to any kind of urgent electrical problem.